2019 Finalist: Onescnd
Lastly, we sat down with Niels Uiterdijk and Dion Verhoog, the team driving change with Onescnd, to understand more about their mission and ambition for their company: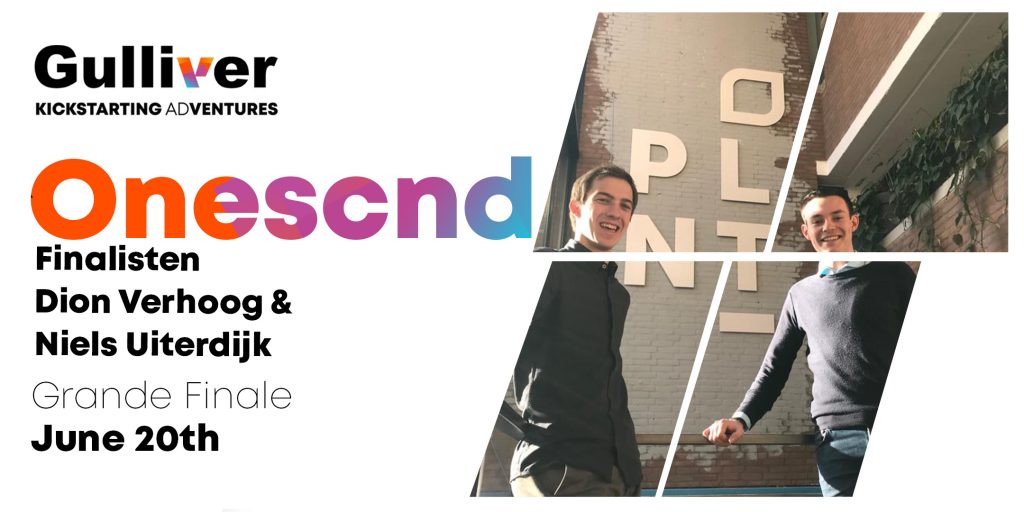 What is Onescnd?
Onescnd is a calling system for restaurants. How it works is, there is a button you can press which sends a signal to the waiter/waitresses' smart watch, and this signal tells them which table has made a service request. We are now developing a data management system, so that you can see the average waiting time live, and also what the average waiting time was that day or how many clicks there are per table. We want to collect the data for three basic types of service that exist in restaurants: (1) ordering drinks, (2) ordering food, (3) payment and then be able to put this data into a dashboard we are now developing. So ultimately, it's not only a calling system but also a data management system.
How did you come up with the idea?
That's a funny story actually: We were second year commercial-economic students at the Hogeschool Leiden and we had our final project of the year that had the assignment of starting a student company. We had to think about a product or service we were going to launch. We were thinking about stupid ideas the whole time because we were forced to make something up out of the blue, until our teachers told us we had to be more creative about the process. So one sunny day we went onto a terrace and ordered some beers, and we wanted to order some more drinks and snacks at some point and tried to catch the attention of the waiters, so we were waving and waiting but they didn't see us. So after a while I was forced to go inside to order directly at the bar. I put the beers on the table and said to Niels, "Why has no one ever thought about something to get in contact with the waiters?" And that was how we came up with the idea to invent something that will help you get in contact with the waiters even when they don't see you waving.
You two are the team driving this innovation, why did you guys team up and why are you the best people to be doing this?
We are very much on the same page which helps us make decisions really quickly and move forward quickly. That's something that makes us very special and we're both ambitious and forward thinking which is why we want to reach a big end result.
When you think about the future of Onescnd and where you guys are headed, what's the part you are most excited about?
On online review platforms you have forms, in which the systems filter different items that are involved in the experience, such as service, food and decoration. Through these, the restaurant gets an end score or rate. We would like to be able to see improvement in these ratings through the use of our system. Being able to see that before using Onescnd they had a 7 for service and then after using Onescnd they go up to an 8, this will make us feel great but most of all, this will let people see that our system is working!
But that's why we need to launch pilots and get that data, more than we have done so far.
At this point you're aiming to finish building the platform and ultimately to really get in front of people and show that it works?
Yes and also, to finish a platform like that, first you need to contain data to know what you still want to finish. We have thought of what we want to do but if the data tells us something else we still don't know really what's going on deeper within the workings our customers are seeing in practice.
In America it is already normal to have calling systems, but here in the Netherlands it's not done. You won't see a lot of calling systems in restaurants here. Maybe in fast food restaurants. We want and prefer the personal contact between the guest and waiter. I enjoy talking to someone in a restaurant, those interactions create and hopefully improve the atmosphere.
What's one of the hardest moments so far?
We are two commercial-economic students, so we are not very good at ICT/programming/HTML. That is something we could be learning from YouTube tutorials of course, but we decided to hire some trainees who can do that for us right now. It would be nice to do this on our own, this was definitely something we had problems with at first. But we contacted the Hogeschool about it and from the beginning, teachers or students were helping us out with this. But yes, sometimes there is a time gap before we can fix something.
Why do you think Onescnd should win compared to everyone else?
In my opinion, we think we can make the life in restaurants and bars much easier for the guest. And we think we have got a common problem that everybody has but the solution is not there yet. And we want to sit down and just relax and just talk to each other in a meeting, maybe with some friends. It shouldn't be an experience which becomes irritating for. And I think that if we can solve that problem, it could be a lot nicer.
And maybe we will set an example for other students from the Hogeschool Leiden, to show them you can win Gulliver even without a University or Master Degree, but a 3rdyear student is good enough. Of course, in the end it's up to the jury to decide.
As we've said we just started by drinking beers on a terrace. So everybody can just reach this. And it is a student entrepreneur competition. So why not try. "See where the ship sails to".
For somebody who wants to follow your journey and find out more about what you're doing, how/where can they do that?
You can follow us or get in touch with us through e-mail, or our website, Facebook page, and even our LinkedIn page. We have a website with a chatbox, so if you start chatting there we get a message directly on our phone, which is probably the easiest way. Especially if someone is really interested in the data of the restaurants and wants to improve their service. They must see the same thing we do. As a restaurant owner, you might feel as if your staff is doing perfectly and sees everyone, but then when you sit there as a guest, you're actually waiting around. They have to admit that even they can improve.
We've always been optimistic to help restaurant owners, because there are always vacancies open at restaurants and not enough people to fill the positions. So we were also thinking of a way to help restaurant owners.
What is your advice for other people like you, who want to make the jump into entrepreneurship?
In my opinion: Just try it. We've learned so much in the past year and a half, because things go right and then some things go wrong, and you just learn everything that has to do with a company. Not just a company or start up but also about people. You learn a lot from other people, you will get new contacts and will learn how to network. So it's not just starting a start-up but a lot more, and I think just try. Students that try to set up a start-up, it will be more challenged and more rewarded in the end.
Especially in a group, I think working alone would be a lot harder. Get together with some good friends and always taken in everyone's thoughts, everybody has some ideas. From there, just work one out and see where it goes.
Anything else you'd want to share?
It's a really quite simple system, not much more to say. Very simple, just one push on the button, they get a message you want to get helped. Very simple. Yes you're in one second in contact with the waitress so yes we think if you take that into your concept and you get experienced with it will really help especially restaurant owners we have to just wait if something comes out.
To find out more about Onescnd and keep up to date with the work, get in touch with the team through their website, http://www.onescnd.com/or through their Facebook and LinkedIn pages.